Flexible Industrial Design with Multi-touch
Bringing contemporary industrial design to industrial application products has been key target for our design teams to take full advantage of the latest touch technology but retain quality in harsh environments.Traditionally industrial touch implementation has been limited by the need for protruding bezels and other dirt gathering surface features, wide border areas and reduction in optical clarity. Advantech's' e2e touch technology overcomes these limitations and delivers freedom to industrial design teams to safely create the next generation of industrial user interfaces.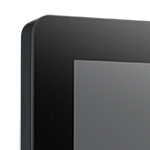 e2e – Projected Capacitive (multi-touch)
Covering a range of sizes from 5" to 65", Projected capacitive ("PCAP") sensors are combined by Advantech with protective and decorative cover lenses, which can then be bonded to one of our TFT display modules. This combination provides superb flexibility with low NRE's for simple customisation in medium volumes.
Depending on decoding circuit selection, single, dual and true multi-touch input can be delivered for applications such as industrial controls, gaming, kiosks and transportation.
Advantech utilises this solution in our IDP31 Proflat series of industrial monitors and IDS-3000 series gaming monitors.Best user experience
Best user experience
Multi-touch
Calibration free
Lightly gloved hand
Can be expensive with higher NRE
e2e – Analogue Resistive (single and single touch)
Suitable for small to medium sizes up to 19", e2e-AR combines the low cost and flexibility of Analogue resistive touch technology with the industrial design capabilities of PCAP. Substrates can be glass or Polycarbonate and of almost any thickness. Decoding is simple and additional features such as illumination and discrete keys can be combined in the same structure , further reducing system cost and complexity.
E2e-AR is used in a variety of Advantech PLC/HMI products and is ideal for applications such as POS, vehicle diagnostics and medical equipment.
Low cost, low NRE
Gloved hand operation
Single touch
Plastic or glass substrate
Easy to implement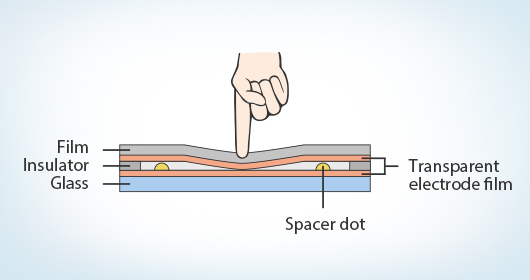 e2e – Surface Acoustic Wave (single and dual touch)
Suitable for medium to large sizes up-to 32", e2e-SAW uses 3,4 or even 6mm glass substrates to create highly ruggedized contemporary touch input devices. Utilizing a combination of SAW transducers fitted behind the front glass, dust and water proof solutions can be implemented. Mating touch decoder outputs single and dual touch information allowing pinch, zoom, flick and other intuitive gestures.
E2e-SAW is used in a variety of customised systems in Gaming, Kiosk and Transportation markets.
Transportation: Marine navigation, In-vehicle computer systems
HMI: ATMs, Outdoor KIOSK, Vending machine
Military: Ruggedized PC, Portable device
Public Information Displays