High Brightness Meet Sunlight Challenge
Nowadays, displays have been transformed into interactive Human Machine Interfaces (HMI), and as a result, we see more and more outdoor applications appearing. Specifications for outdoor applications are totally different from general displays. For example, when we use a mobile phone which is normally 350 nits outdoors, the screen usually looks washed out or becomes invisible under strong sunlight, the reason being that ambient light is too strong (normally 10,000 nits) causing strong reflections that reduce readability of the screen. Outdoor applications also suffer extreme temperature fluctuations which mist up the screen between the two glass layers (LCD & touch sensor) making the image unclear. To address this issue, high brightness solution is required.
Solarvision™ High Brightness Enhancement
Advantech Solarvision™ High Brightness Enhancement solution uses an LED light bar in place of CCFL as the backlight source. This, coupled with optical enhancement of lighting films, prismatic diffusor and lighting system can boost brightness up to 2000 nits with a low-power backlight source. Since the backlight brightness has increased, it also enhances color saturation levels and provides better uniformity for all round better optical performance and visibility under bright sunlight conditions. With our advanced LED backlight design, Advantech high brightness solutions achieves excellent power saving; about 20% less energy than competing products with the same level of brightness. For example, a 17" LCD at 1000 nits usually consumes 35W while Advantech high brightness solution only consumes 29.47W, resulting in displays that run cooler with maximum reliability.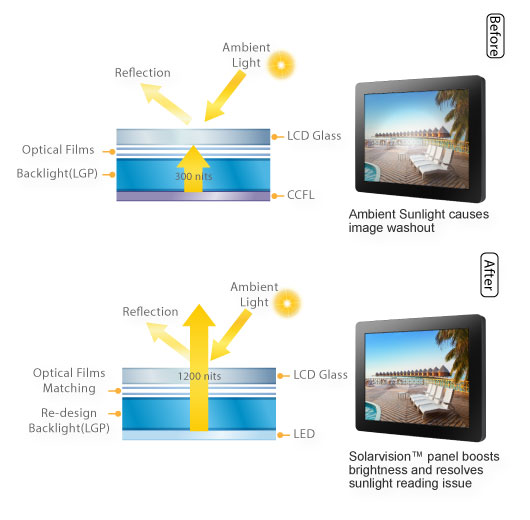 Normally, when the backlight brightness increases, heat issues increase also. To solve this, Advantech developed proprietary applications of novel structure that controls heat dissipation. Advantech Passive Thermal Cyclone system runs 10°C cooler than regular solution which in return, increases lifetime and reliability in outdoor rugged environment. The Passive Thermal Cyclone system allows lower temperatures of less than 40°C on the display surface at start up without a fan.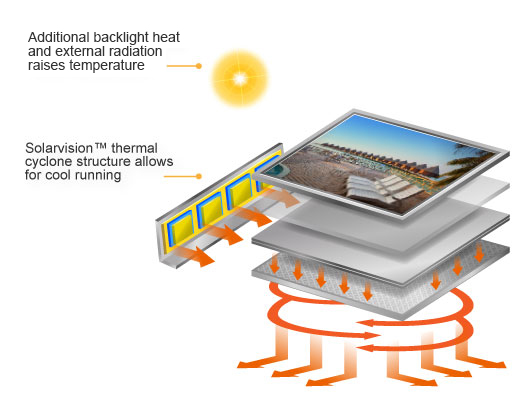 Also, power management is an important issue for applications that run 24/7 to ensure long life and extended use. Advantech designs a smart auto-dimming light sensor on the LED backlight module. The auto dimming light sensor can detect ambient light in the external environment, and increase the display brightness when the ambient light gets stronger and decrease the brightness otherwise, which can significantly save energy up to 50%. Advantech provides a smart auto-sensor on the LED backlight for its ultra high brightness displays. The display can automatically adjust its brightness to the external environment, thus significantly saving energy up to 50%.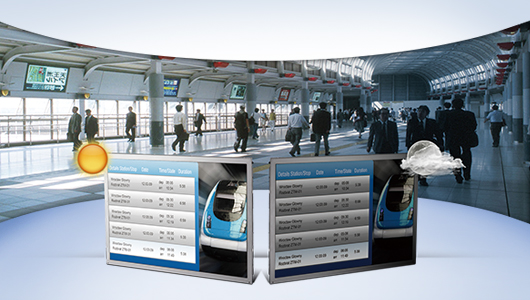 Key Benefits of Advantech High Brightness Solutions
Enhanced sunlight readability
High brightness up to 2000 nits
Consumes comparative low power than market competitors (about 20% less)
Excellent thermal control management: under 40°C surface LCD operating temperature
Smart auto-dimming function for power saving up to 50%
Certified clean room and environmental controls
Suitable Applications and Markets
Transportation: Marine navigation, In-vehicle computer systems
HMI: ATMs, Outdoor KIOSK, Vending machine
Public Information Displays
Outdoor digital signages