Advantech ARK-2121 Multiple I/O Modular Fanless Embedded Systems Achieve Time to Customization
9/22/2015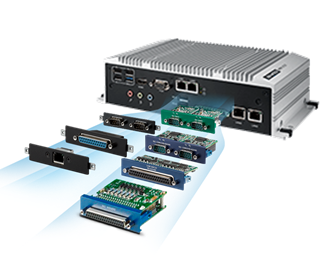 Sept 22, 2015, Taipei–
Advantech, a global leader in the embedded system market, is pleased to announce the ARK-2121, a rugg
edized, compact, fanless, embedded system with Intel

®

Celeron J1900 2.0GHz Quad-Core processor. The ARK-2121 series delivers three times the performance of the previous Intel® D2550 platform empowered by turbo boost computing. ARK-2121 series also supports -20 ~ 70 °C extend temperature operation, featuring harsh environment applications such as
semi-outdoor, in-cabinet traffic control; parking kiosks; and roadside signage.
Multiple I/O Fulfills Various Application Needs
ARK-2121 series has two SKUs, ARK-2121L and ARK-2121F, each with unique features. ARK-2121L is equipped with essential I/Os and iDoor expansion flexibility; it is a perfect choice as entry-level industrial controller for factory automation and machine automation. ARK-2121F provides more COM ports and USB ports for applications that require rich peripheral integration. Moreover, ARK-2121F reserves an optional 2nd HDMI/ DVI-D, and dual GbE for project integration, with CE/FCC/UL/CB/CCC/BSMI certification ready for all options.
Integrated iDoor Mini PCIe Module for Flexible Extension
Advantech's iDoor series provides varies industrial I/O module selection, which including RS-232/422/485, CANBus, GbE, parallel port and digital I/O. All iDoor modules have a unified mechanical design and mounting method. The SystemIntegrator can speed up ARK-2121L I/O customization simply by installing suitable iDoor modules.
Cable connection failure caused by continuous vibration is commonly encountered in industrial applications. To prevent this, ARK-2121 series has lockable I/O design, including VGA, HDMI, GbE, COM, DIO and DC power in, whichensure that cables stay securely connected, evenin a high vibration environment.
Built-in SUSIAccess, Self-sensing, and Smart Remote Management Software
ARK-2121 series uses Advantech SUSIAccess software to provide self-sensing and management capabilities for remote monitoring and control, self-diagnosis and correction, with automatic email alerts. Acronis® executes backup and recovery that can save valuable data in the unlikely event of a system crash. McAfee® enhances system security with white-list software control, and also provides an encryption lock to avoid program theft.


ARK-2121 Series Key Features
ARK-2121L
ARK-2121F

Intel® Celeron® Quad Core J1900 SoC

9~36V wide power input

-20~70 °C extended temperature

VGA and HDMI dual independent display

4 COM, 3 USB 2.0, 1 USB 3.0, 2 GbE

1 x full size mini PCIe

iDoor module expansion support

6 COM(RS-232/422/485) , 5 USB 2.0, 1 USB 3.0, 2 GbE

2 x full size mini PCIe

Isolated DIO (4 DI/4 DO)

Internal USB for security dongle
iDoor Module Support List
| | |
| --- | --- |
| iDoor Module Part Number | Description |
| MOS-2230-Z1201E | CANBus module, 2-Ch, USB I/F |
| MOS-2220-X1101E | Parallel LPT module, 1-Ch, USB I/F |
| MOS-2220-Z1101E | High Speed Serial COM module, 1-Ch, USB I/F |
| MOS-2120-Z1101E | Giga LAN Ethernet module, 1-Ch, PCIe I/F |
| MOS-1120Y-0201E | Isolated RS-232, 2-Ch, DB9, PCIe I/F |
| MOS-1121Y-0201E | Isolated RS-422/485, 2-Ch, DB9, PCIe I/F |
| MOS-1120Y-1401E | Non-Isolated RS-232, DB37, 4-Ch, PCIe I/F |
| MOS-1121Y-1401E | Non-Isolated RS-422/485, DB37, 4-Ch, PCIe I/F |
| MOS-1130Y-0201E | Isolated CANBus, 2-Ch, DB9, PCIe I/F |
| MOS-1110Y-0101E | Isolated 16 DI/8 DO, 1-Ch, DB37, PCIe I/F |

For more information about ARK-2121, please contact your local sales office, or visit us on the web at: http://www2.advantech.com/products/ark-2000-series-embedded-box-pcs/sub_ark-2000_series_embedded_box_pcs.aspx